Child safety is often at the forefront of parents' minds when they bring home a newborn. It can be overwhelming to be in charge of the safety of such a precious life. One important part of child safety is keeping them safe while in a moving vehicle. Unfortunately, even the safest of drivers can be involved in an auto accident due to the negligence of others. According to the National Highway Traffic Safety Administration, car crashes are a leading cause of death for children between the ages of one and 13. While this is frightening, the risk of death in a crash can be greatly reduced with the proper use of a car seat. As Rio Rancho's accident attorneys, Sanchez and Piñon care about car seat safety and keeping your loved ones safe.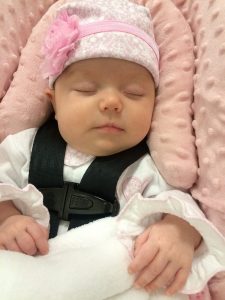 Choosing a Car Seat
Choosing a car seat for your child can seem complicated when considering all of the options available for purchase. Parents have to choose between different brands at a variety of prices. Luckily this task can be made simpler by breaking down the different types of seats, and taking into account your child's size and age can help ensure you're picking the safest option.
Rear-facing
What it is: rear-facing seats are positioned to face your child toward the back window of the vehicle. They use a harness and are able to cradle the child in the event of a crash. They are also designed to move with the child to lessen any impact on their fragile head or spinal cord.
Who it's designed for: children under 12 months should be in a rear-facing car seat. It is also recommended that children between the ages of one and three ride in this type of seat until they exceed the manufacturer's recommended weight and height requirements.
Forward-facing
What it is: forward-facing car seats use a harness and tether to provide stability to the child. While the child is seated forward, this type of seat works to limit any forward motion in the event of a crash.
Who it's designed for: this seat is typically for children who are between the ages of four and seven, or who have outgrown their rear-facing seat.
Booster
What it is: booster seats provide an elevated place for the child to sit and are intended to be used with the car's own seat belt. The elevated seat helps the seat belt fit snugly across the child's upper legs, chest, and shoulder. Booster seats can be purchased with or without a back, depending on whether your vehicle has seats with headrests.
Who it's designed for: these seats are typically for children between the ages of eight and 12. If the seat belt fits across the child's neck or stomach, they are not the right size for this car seat.
Seat belt
What it is: once a child has grown out of their booster seat and a regular seat belt fits them properly, then they may use only a seat belt. They should still be seated in the back seat of the vehicle.
Who it's designed for: using a regular seat belt is usually for children ages 12 and older. It may be used at a younger age depending on the child's height, weight, and whether or not the belt fits them properly. For more information on how to ensure a seat belt fits properly, check out this guide by healthychildren.org.
Car Seat Installation Tips
Each car seat is going to have its own set of instructions and parts. For installation instructions that are specific to your child's type of seat, check out the National Highway Traffic Safety Administration's installation videos.
Here are a few tips to get you started:
Before installing your child's seat, read both the car seat's instructions and your car's instructions on how to install car seats. It's important to follow all instructions closely due to the differences between each type of seat and type of vehicle.
Once installed, the car seat should not be able to move more than one inch when pulled side-to-side or front-to-back.
When your child is strapped into a seat that uses a harness, make sure all parts of the harness lay flat. Pull it tight enough that you can't pinch any extra material at the child's shoulder.
Car Seat Safety Tips | Keeping Your Baby Safe
Here is some additional information to keep in mind when choosing a car seat and transporting your child:
The back seat is the safest place for all children under 12 to avoid any injuries from an airbag deploying during a crash.
Inform anyone who transports your child how to properly use the seat.
Bulky coats and jackets can prevent safety harnesses from working properly. To keep your child warm during a car ride, you can place a coat or blanket over the harness.
A pricier car seat does not necessarily mean it is a safer car seat. It is more important to research whether the seat meets federal safety standards.
If the car seat is a hand-me-down, make sure it still has the installation and use instructions, is not missing any parts, and has not been recalled.
You can register your car seat to receive notices if the manufacturer releases a safety notice or recall.
It is important to base your car seat choice off of your child's height and weight, and not only their age. This is especially important if your child is outside of the height or weight range that is typical for their age.
If you are unsure which seat is best for your child based on their height and weight, check out this car seat finder calculator.
If a car seat has been in a moderate or severe crash, you should purchase a new one to ensure it works properly.
Have you and your family been involved in a recent auto accident? Was your family injured or put at risk by the negligence of another driver? If you are looking for legal representation, contact Sanchez and Piñon, Rio Rancho's accident attorneys. They will provide you with a free consultation and can discuss the legal representation options that are right for your family.